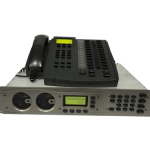 Even if you have noise -free digital telephone service at your station, keeping talk show audio clean and pure isn't easy. You've got to transform digital call-in lines to work with your old analog phone system. Wouldn't it be great to have a talk show system that connects directly with digital lines – without all the hassle of analog conversion? The solution is the TWOx12 Talk Show system from Telos – the world leader in broadcast telephone technology. The Telos TWOx12 brings ISDN clarity right into the studio, without any messy analog conversion. Just plug them in and you're done. The TWOx12 is the easiest, most efficient upgrade path from analog to digital. It's the only multi-line talkshow system that you can use right now with your existing POTS lines, and upgrade for use with ISDN lines later.
Features: single rack mount package includes two high-performance digital telephone hybrids and a 12-line broadcast phone system (Desktop Director) for high quality conferencing between callers – and no need for any external equipment; unmatched send/receive separation using Advanced Adaptive Cancellation technology; hybrid automatically adjusts to phone line conditions, eliminating the hollowness, feedback and distortion that occurs when send audio "leaks" into the caller output signal; clear, user-friendly front panel meters and controls for unparalleled ease of setup; AGC/limiting functions plus three band dynamic equalization ensure consistent caller audio levels and spectral consistency; studio-grade 20-bit A/D conversion, combined with noise gating and shaping, delivers crystal clear caller audio, even when using POTS lines.
Along with the digital hybrids, up to four Desktop Directors (12-line broadcast phone system) can be used with theTWOx12 to maximize flexibility and control. Features: intuitive, "quick read" status symbols make line selection easier than ever; hosts receive immediate information about line availability, on -hold and ready-for -air queue status; Busy All function lets talent clear contest lines with just the touch of a button; simultaneous baseband analog and AES/EBU outputs; automatic high-precision sample rate conversion for send to caller input; caller ID support and fully adjustable
caller ducking helps hosts stay in control; built-in Ethernet connection for remote control and easy software upgrades.
For even more control, add optional Windows-based Assistant Producer call screening software to facilitate instant producer/host communication via LAN or WAN.
Even if you don't have ISDN in your studio yet, the TWOx12 gets you ready for the future. Start with POTS inputs and upgrade to ISDN inputs later, when ever you're ready.